C2 districts are mapped as commercial overlays within residence districts. They are mapped along streets that serve the local retail needs of the surrounding residential neighborhood.
Typical retail uses include grocery stores, restaurants and beauty parlors, catering to the immediate neighborhood. C2 districts permit a slightly wider range of uses than in C1, such as funeral homes and repair services. In mixed residential/commercial buildings, commercial uses are limited to one or two floors and must always be located below the residential use.
C2-3 is a commercial overlay district with a depth of 150 feet. These districts are largely found in throughout the city's lower and medium-density districts.
Overlay districts are distinct from other commercial districts in that residential bulk is governed by the residence district within which the overlay is mapped. All other commercial districts that permit residential use are assigned a specific residential district equivalent.
When residences are constructed in any commercial district, certain regulations that apply in residence districts are waived, such as front and side yard requirements.
C2-3 overlays mapped in R1 through R5 districts have a maximum commercial FAR of 1.0. When mapped in R6 through R10 districts, however, the maximum commercial FAR is 2.0.
Commercial parking requirements are highly complex, reflecting traffic-generating qualities of the various commercial uses, their size and proximity to mass transit. Generally, the lower the numerical suffix, the more off-street parking is required in a particular district.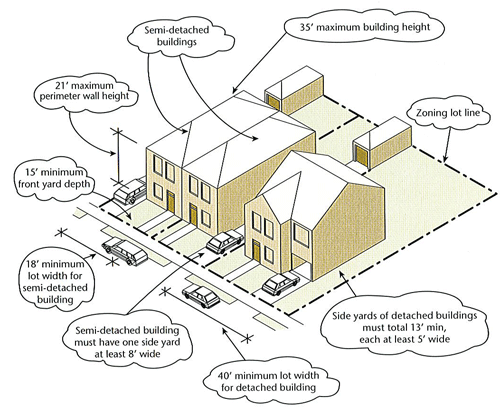 The maximum in R3 districts is 0.5 plus an additional attic allowance of up to 0.1 FAR. Above 21 feet, a building is usually set back or under a pitched roof with a maximum height of 35 feet. All R3 districts require one parking space for each dwelling unit.
R3-1 districts permit relatively small single-and two-family homes. The buildings may be detached or semi-detached. Two-family semi-detached houses must have at least 75 percent of one dwelling unit directly above the other. R3-1 districts are generally mapped to follow existing patterns of development.
In R3-1 districts the minimum lot width for detached houses is 40 feet; semi-detached buildings must be on zoning lots that are at least 18 feet wide. For both detached and semi-detached houses, the maximum lot coverage is 35%. The perimeter wall may rise to 21 feet before sloping or being set back to a maximum building height of 35 feet.
Front yards must be at least 15 feet deep. Two side yards with a total minimum width of 13 feet are required for a detached residence; one eight-foot side yard is required for each semi-detached residence. Parking on lots less than 35 feet wide, generally occupied by semi-detached homes, must be located in the eight-foot side lot ribbon. On lots 35 feet or wider, an in house garage is permitted as long as the driveway is at least 18 feet deep.