During New York Harbor's dominance of North American shipping in the 19th century, Sunset Park grew rapidly around the Bush Terminal. The model industrial park was completed in 1895 between 39th and 53d Streets, and continued to grow through World War II, when the Brooklyn Army Terminal between 53d and 66th Streets employed more than 10,000 civilians to ship 80% of all American supplies and troops.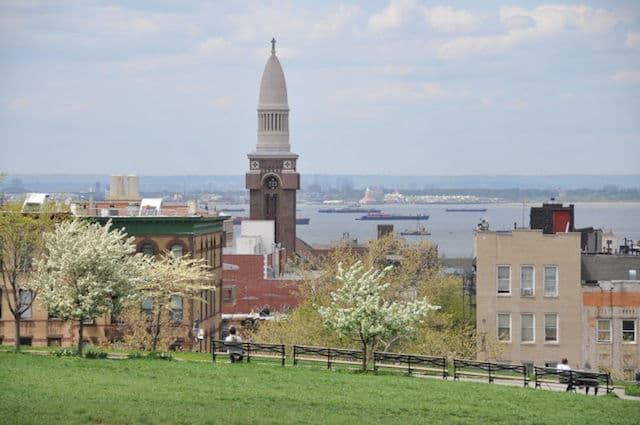 Sunset Park's fortunes began to decline after the war and due to the rise of truck-based freight shipping, ports in New Jersey, growth of suburban sprawl, closing of the Army Terminal, and decreasing importance of heavy industry in the northeastern United States. The construction of the elevated Gowanus Expressway in 1941 effectively cut the neighborhood off from the harbor.
Sunset Park's second age began with a wave of immigration primarily from Puerto Rico, the Dominican Republic, and El Salvador. By 1990, Hispanics comprised 50% of Sunset Park's population, rehabilitating property values and developing a thriving community.
In the 1980s, Sunset Park became the location of the borough's first Chinatown, which is located along 8th Avenue from 42nd to 68th Street and has rapidly attracted many Chinese  immigrants. Eighth Avenue is lined with Chinese businesses, including grocery stores, restaurants, Buddhist temples, video stores, bakeries, and community organizations, and even Hong Kong Supermarket.
The area is anchored by two major industrial complexes: the Brooklyn Army Terminal and Industry City (formerly Bush Terminal).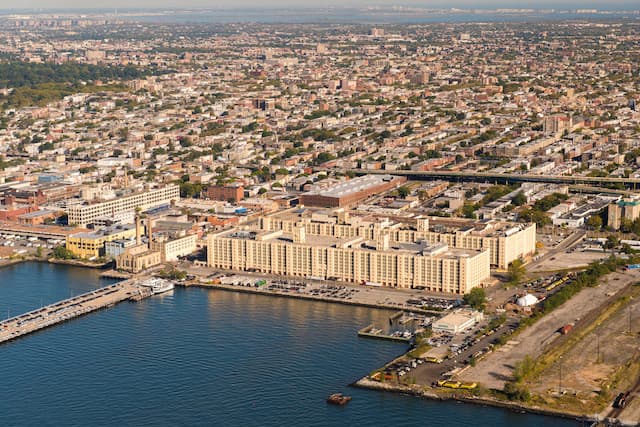 After closing the Brooklyn Army Terminal in the 1970s, it was sold to the City of New York. After renovation, it was reopened as a center for dozens of light manufacturing, warehousing and back-office businesses.
Industry City is a historic intermodal shipping, warehousing, and manufacturing complex on the waterfront in the Sunset Park neighborhood of Brooklyn, New York City. Originally named Bush Terminal, it was the first facility of its kind in New York and the largest multi-tenant industrial property in the United States. Today, Industry City comprises roughly 40 acres, including 16 original buildings. The 6.5 million square foot complex is currently undergoing renovations to modernize the historic infrastructure in an effort to preserve the industrial heritage of the project for future generations of artisans, craftsmen, and small businesses.
Sunset Park accessible by the Gowanus and Prospect Expressway, as well as the Belt Parkway. The D, N and R subway lines service the area.