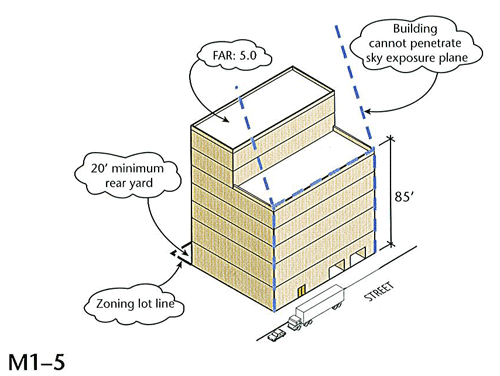 M1 districts range from the Garment District in Manhattan, with its multistory lofts, to parts of Red Hook and College Point with many one or two-story warehouses studded with loading bays. The M1 district is often a buffer between M2 or M3 districts and adjacent residential or commercial districts.
Light industries typically found in M1 areas include knitting mills, printing plants, woodworking shops, auto storage and repair shops, and wholesale service and storage facilities. In theory, nearly all industries uses can locate in M1 areas if they meet the more stringent M1 performance standards. Offices and most retail uses are also permitted. Certain community facilities, such as hospitals, are allowed in M1 districts only by special permit, but houses of worship are allowed as-of-right.
Floor area ratios in M1 districts range from 1.0 to 10.0 and building height and setbacks are controlled by sky exposure planes which may be penetrated by towers in certain districts. New industrial buildings are usually low-rise structures that fit within sky exposure planes. Except along district boundaries, no side yards are required. Rear yards at least 20 feet deep are usually required, except within 100 feet of a corner.
In M1-5 zoned districts, parking is not required. The maximum FAR is 5.0. Although new industrial buildings are usually low-rise structures that fit within sky exposure planes, commercial and community facility buildings can be constructed as towers.
R7 districts are medium-density apartment house districts. The height factor regulations for R7 districts encourage low apartment buildings on smaller zoning lots and, on larger lots, taller building with low lot coverage. As an alternative, developers may choose the optional Quality Housing regulations to build lower buildings with higher lot coverage.
Height factor buildings are often set back from the street and surrounded by open space and on-site parking. The floor area ratio (FAR) in R7 districts ranges from 0.87 to a high of 3.44; the open space ratio (OSR) ranges from 15.5 to 25.5.
As in other height factor districts, a taller building may be obtained by providing more open space. For example, 76% of the zoning lot with the 14-story building is required to be open space (3.44 FAR x 22.0 OSR). The maximum FAR is achievable only where the zoning lot is large enough to accommodate a practical building footprint as well as the required amount of open space.
The building must be set within a sky exposure place which, in R7 districts, begins at a height of 60 feet above the front lot line and the slopes inward over the zoning lot.
The optional Quality Housing regulations in R7 districts produce lower, high lot coverage buildings set on or near the street line. With floor area ratios that are equal to or greater that can be achieved in height factor buildings, the optional Quality Housing regulations produce new buildings in keeping with the scale of many traditional neighborhoods.
The R7 optional bulk regulations for buildings on wide streets outside the Manhattan Core are the same as those in R7A districts. The maximum FAR is 4.0 and the base height before setback is 40 to 65 feet with a maximum building height of 80 feet. The maximum FAR for the Manhattan Core is 3.44, and the base height before setback is 40 to 60 feet with a maximum building height of 75 feet. Under the optional regulations, parking is required for 50% of the dwelling units.