Originally part of Bushwick, the area that would become Williamsburg was an important ferry point for farmers and gardeners moving their products to Manhattan. It was renamed Williamsburgh (and, finally, Williamsburg in 1852) after the Colonel Jonathan Williams, a U.S. Engineer, who survey the region.
Early industry valued the deep drafts along the East River.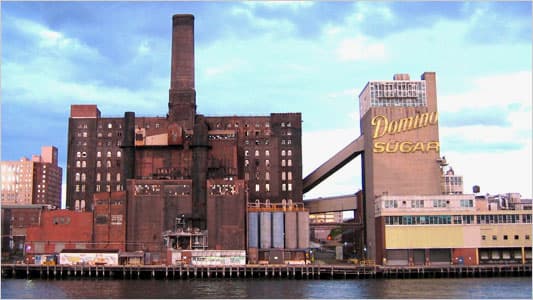 This encouraged industrialists, many from Germany, to build shipyards around Williamsburg. Raw material was shipped in, and finished products were sent out of factories straight to the docks. Several sugar barons built processing refineries, such as the now-defunct Domino Sugar. Other important industries included shipbuilding and brewing.
In the mid-1800s wealthy New Yorkers such as Cornelius Vanderbilt and railroad magnate Jubilee Jim Fisk built shore-side mansions. Corning Glass Works was founded in Williamsburg before moving upstate to Corning, New York. German immigrant, chemist Charles Pfizer founded Pfizer Pharmaceutical in Williamsburg, and the company maintained an industrial plant in the neighborhood through 2007.
The Williamsburg Bridge, completed in 1903, further opened up the community to thousands of upwardly mobile immigrants and second-generation Americans fleeing the overcrowded slum tenements of Manhattan's Lower East Side. Refugees from war-torn Europe began to stream into Brooklyn during and after World War II, including the Hasidim whose populations had been devastated in the Holocaust. Hispanics from Puerto Rico and the Dominican Republic also began to settle in the area.
Prior to the mid-1990s, artists valued the low rents and large spaces available in Williamsburg. The area began gentrification and development at the end of the 20th century, and accelerated with the 2005 rezoning of the North Side and Greenpoint waterfront.
The rezoning represented a dramatic shift of scale in the ongoing process of gentrification in the area since the early 1990s. The waterfront neighborhoods, once characterized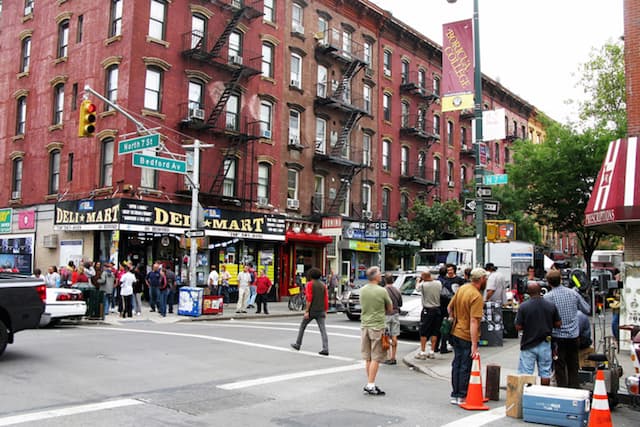 by active manufacturing and other light industry interspersed with smaller residential buildings, were rezoned primarily for residential use. Alongside the construction of new residential buildings, many warehouses were converted into residential loft buildings.
The main subway line are the L train in the north and the J, M and Z lines in the south, while the G line connects Williamsburg to Long Island City and the rest of Brooklyn. The Brooklyn Queens Expressway cuts through the middle of the area and the Williamsburg Bridge provides quick access to Manhattan.