- Air-Conditioned warehouse space.




- Three (3) Bay Locations with Easy Trailer accessibility




- Ideal for high volume user in the packaging and shipping operation




- Close proximity to La Guardia Airport and JFK Airport and all Major Public Transportation




- Centrally located with easy access to New Jersey, Long Island, New York City, Brooklyn and the Bronx




- Refrigeration room in place. Can stay or be removed.

" />
20,000 sf Industrial Space with Parking
- Modern build out includes: 5,000 sq. ft. modern office space [6 executive offices], conference room, kitchen and large open work space
- Air-Conditioned warehouse space.
- Three (3) Bay Locations with Easy Trailer accessibility
- Ideal for high volume user in the packaging and shipping operation
- Close proximity to La Guardia Airport and JFK Airport and all Major Public Transportation
- Centrally located with easy access to New Jersey, Long Island, New York City, Brooklyn and the Bronx
- Refrigeration room in place. Can stay or be removed.
Location
Address
11025 14th Ave, College Point, Queens, NY 11356
Sq Ft
Financials
Construction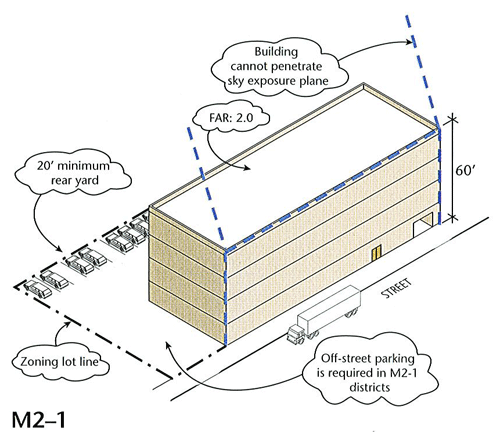 M2 districts occupy the middle ground between light and heavy industrial areas. They are mapped mainly in the city's older industrial areas along the waterfront, such as Brooklyn's Red Hook and Sunset Park waterfronts.
Required performance standards in all M2 districts are lower than in M1 districts. Except when bordering on a residential district, more noise and vibration are allowed than in an M1 zone, smoke is permitted and industrial activities need not be entirely enclosed.
Parking is a requirement in M2-1 zones. Primarily located in older manufacturing areas, these sites have a maximum FAR of 2.0 and a maximum base heights before setback of 60 ft.