Originally part of Brooklyn, Ridgewood is officially located within Queens county, however, its political boundary with Brooklyn causes confusion and debate about where the western boundary of Ridgewood truly lies.
The area was first settled by the Dutch and Onderdonk House, built in 1709, is the oldest Dutch Colonial stone house in New York City. At that time, it was part of Bushwick, but a second wave of British settlers renamed it Ridgewood.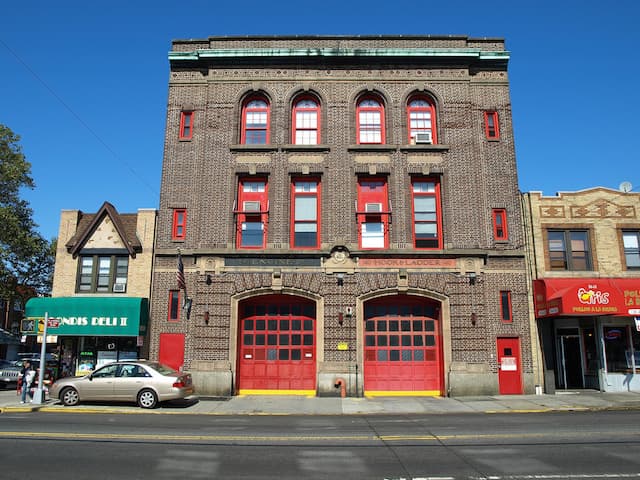 The development of public transportation, from horse-drawn cars in the mid-19th century and later trolleys and elevated trains, helped to spur residential and retail development. Most of the housing stock was built between 1905 and 1915 to house German immigrants who worked in the breweries and knitting factories that straddled the Queens-Brooklyn border.
Ridgewood is a densely settled neighborhood, with housing stock ranging from six-family buildings near the Brooklyn border to two-family and single-family row houses deeper into Queens. Ridgewood is visually distinguished from Bushwick by the large amount of exposed brick construction; in Brooklyn, vinyl siding is more common.
Most of Ridgewood was developed block-by-block around the turn of the 20th century.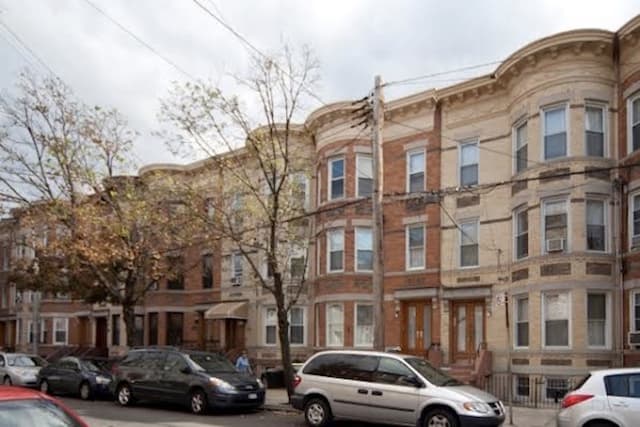 Local architect Louis Berger & Co designed more than 5,000 buildings in the area. The neighborhood has been largely untouched by construction since then, leaving many centrally planned blocks of houses and tenements still in the same state as their construction. These blocks include the Mathews Flats (six-family cold water tenements), Ring-Gibson Houses (two- and four-family houses with stores), and Stier Houses (curved two-family rowhouses). Many of these houses are well-kept and retain much of their early 20th century appeal.
Ridgewood Savings Bank, the largest mutual savings bank in New York State, has their headquarters at the intersection of Myrtle and Forest Avenues. The building's exterior is made of limestone and contains an eight-foot granite base. The interior has travertine walls and marble floors.
On the New York City Subway, the M train runs through the heart of Ridgewood, and its connection to the L train at Myrtle-Wyckoff Avenues at the south end of Ridgewood is a transportation hub, with a 60-million-dollar renovation completed in 2007. The Long Island Expressway and Jackie Robinson Parkway provide easy access by car to the area as well.