DY Realty Group has been retained on an exclusive basis to handle the leasing of 46-25 54th Avenue in Maspeth, Queens.

The property consists of an 11,000 sf 1-story space with 8 drive-in doors and ceiling heights of 16'. Additionally, there is 12,000 sf of fenced & paved land / parking and two street frontage with access to the building from both streets (54th Avenue & 53rd Avenue).

Located in the heart of Maspeth, situated directly next to the Long Island Expressway and Brooklyn-Queens Expressway, providing easy access to all boroughs, as well as Long Island.

The remaining 6,000 sf space with ±4,000 sf land could potentially be made available in June 2022.

" />
4625 54th Ave - 11,000 sf Grnd Fl w/ 12,000 sf Land
11,000 sf Building & 12,000 sf Land For Lease
DY Realty Group has been retained on an exclusive basis to handle the leasing of 46-25 54th Avenue in Maspeth, Queens.
The property consists of an 11,000 sf 1-story space with 8 drive-in doors and ceiling heights of 16'. Additionally, there is 12,000 sf of fenced & paved land / parking and two street frontage with access to the building from both streets (54th Avenue & 53rd Avenue).
Located in the heart of Maspeth, situated directly next to the Long Island Expressway and Brooklyn-Queens Expressway, providing easy access to all boroughs, as well as Long Island.
The remaining 6,000 sf space with ±4,000 sf land could potentially be made available in June 2022.
Location
Address
4625 54th Ave, Maspeth, Queens 11378
Highways
Brooklyn Queens Expy
Long Island Expy
Sq Ft
Financials
Construction
The area known today as Maspeth was chartered by Dutch and English settlers in the mid-17th century. The name "Maspeth" is derived from the name of Mespeatches Indians, one of the 13 main Indian tribes that inhabited Long Island.
The Grand Street Bridge carries Grand Street (Brooklyn) eastward across English Kills from Williamsburg where it becomes Grand Avenue, Maspeth's main street for dining and business. Single home houses and multiple dwelling homes make up most of Maspeth's residential uses, except for the co-ops on 65th Place, also known as The Plateau.
Maspeth's industrial sector lies primarily between 43rd Street through 58th Street, which includes the former Furman Island. The area is primarily accessed via the Brooklyn Queens Expressway and Long Island Expressway. Freight also moves along the active rail siding of the Long Island Railroad and a new West Maspeth rail freight station has been proposed in connection with a Cross-Harbor Rail Tunnel to diminish truck traffic across New York City.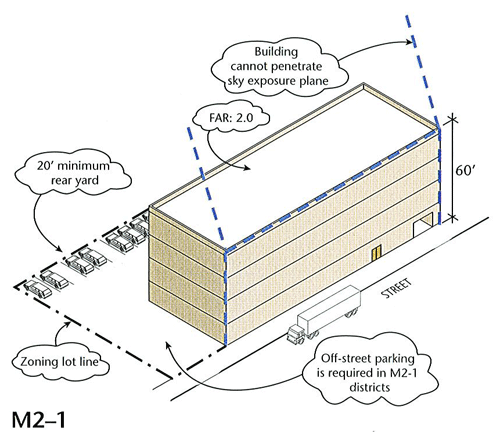 M2 districts occupy the middle ground between light and heavy industrial areas. They are mapped mainly in the city's older industrial areas along the waterfront, such as Brooklyn's Red Hook and Sunset Park waterfronts.
Required performance standards in all M2 districts are lower than in M1 districts. Except when bordering on a residential district, more noise and vibration are allowed than in an M1 zone, smoke is permitted and industrial activities need not be entirely enclosed.
Parking is a requirement in M2-1 zones. Primarily located in older manufacturing areas, these sites have a maximum FAR of 2.0 and a maximum base heights before setback of 60 ft.