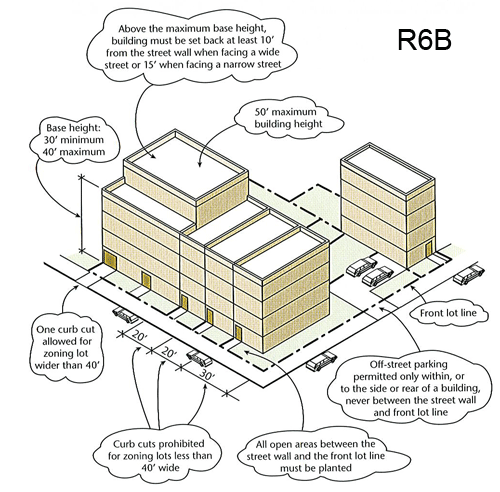 R6B districts are often traditional row house districts, designed to preserve the scale and harmonious streetscape of neighborhoods developed during the 19th century with four-story attached buildings. Many of these houses are set back from the street by the stoops and small front yards that are typical of Brooklyn's "brownstone" neighborhoods.
The FAR of 2.0 and the mandatory Quality Housing regulations also accommodate apartment buildings at a similar four- to five-story scale. The base height of a new building before setback must be between 30 and 40 feet; the maximum building height is 50 feet. To maintain the traditional streetscape, curb cuts are prohibited on lots narrower than 40 feet and the front wall of a new building , on any lot up to 50 feet wide, must be as deep as one adjacent front wall but no deeper than the other.
Off-street parking is not allowed in front of a building and the area between the front wall and the street line must be landscaped. Parking is required for 50% of dwelling units, or waived if five or fewer spaces are required.